CK6140 Good Quality New Metal Turning Horizontal CNC Lathe Machine
Product Description

CAK series CNC Lathe machine is and economical, practical type machine tools with good quality.
The machine has a very wide use which is suitable for internal and external turning, tapering, circular arc, thread, boring, reaming of axis and disk workpiece. It also can achieve non-circular curve machining. You can choose the CNC system and optional accessories according to your requirement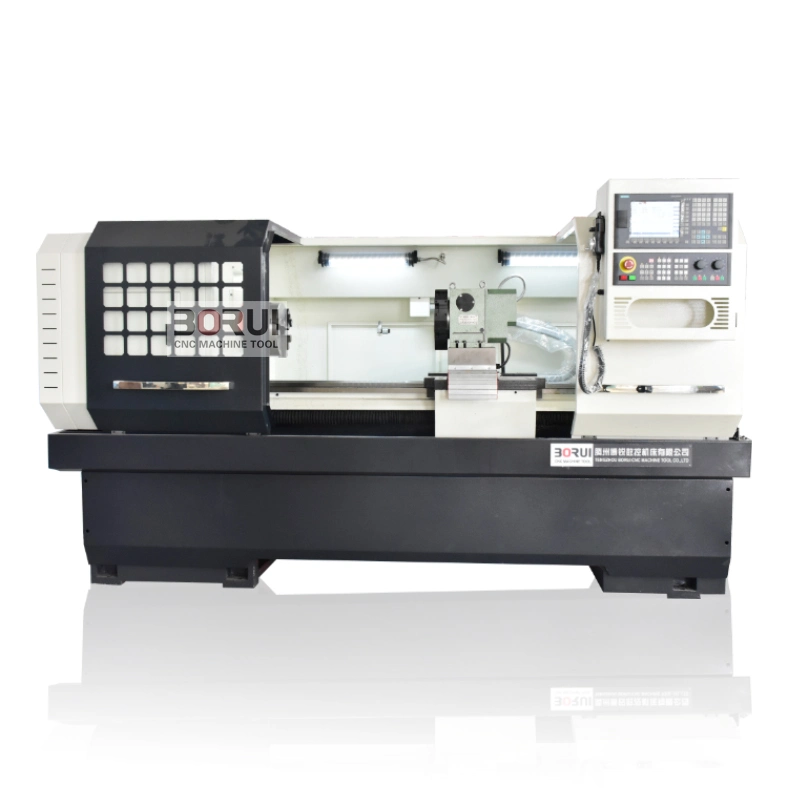 Product main technical Specifications:
SPECIFICATIONS

CK6136D

CK6140D

CK6136B

CK6140B

Max .Swing over bed

360mm

400mm

360mm

400mm

Max. swing over carriage

200mm

240mm

200mm

240mm

Max. workpiece length

312mm

312mm

Max. cutting length

312mm

600/850mm

Bed width

312mm

312mm

312mm

312mm

Section of turning tool

20×20mm

20×20mm

20×20mm

20×20mm

Thru-hole of spindle

52mm

52mm

52mm

52mm

Spindle speeds

Stepless: 100-1600rpm
2-gear speed change 25-1600rpm

2-gear speed change 100-3000rpm
(I. 100-1047rpm, II. 290-3000rpm)

Spindle end

ISO (GB) C6

ISO (GB) C6

ISO (GB) C6

ISO (GB) C6

Spindle taper

MT6

MT6

MT6

MT6

Feed speed X/Z

X: 3m/min Z: 4m/min

X: 3m/min Z: 4m/min

Rapid feed speed X/Z

X: 4m/min Z: 6m/min

X: 4m/min Z: 6m/min

Tailstock spindle travel

100mm

100mm

100mm

100mm

Tailstock spindle diameter

60mm

60mm

60mm

60mm

Tailstock center sleeve taper

MT4

MT4

MT4

MT4

Repeatability error

0.01mm

0.01mm

0.01mm

0.01mm

Spindle motor

5.5kw

5.5kw

5.5kw

5.5kw

Packing size (L×W×H) (750mm)

210×135×170cm

210×135×170cm

210×135×170cm

210×135×170cm

Packing size (L×W×H) (1000mm)

230×135×170cm

230×135×170cm

230×135×170cm

230×135×170cm

Weight(kg) (750mm)

1300

1400

1300

1400

Weight(kg) (100mm)

1500

1600

1500

1600
Standard Accessories:
1. Frequency Spindle
2. 250mm 3-jaw Manual Chuck
3. 4-station turret
4. Manual Tailstock
5. Full-splash Guard
6. Stepless speed change
Optional Accessories:
1. Hydraulic Solid Chuck
2. Hydraulic Hollow Chuck
3. Hydraulic tailstock
4. 6-station turret
5. Center Rest and follow rest
6. 4-Jaw chuck
CNC Controller system:
GSK; FANUC; Siemens; KND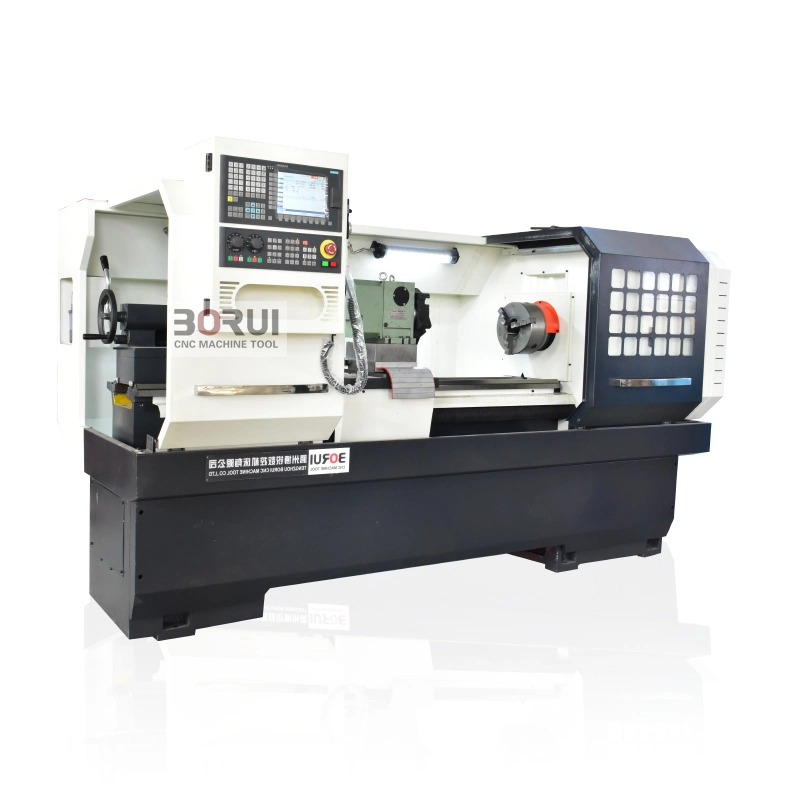 The main feature :

1) Machine are made of high intensional cast iron with good aseismatic and high rigidity

2)Spindle of heavy-cutting structure to achieve high rigidity and high precision

3)With electrical turret,it can achieve high positioning ,fast speed for toolchange and high performance

4)With feeding motor and leadscrwe for type of direct connection,it can assure the machining precision and positioning accuracy

5)Tailstock can be adopted by hydraulic driving to make sleee travel bigger and easy operation

6)Complete closed cover can protect the iron scraps splashing out.

Product Dtails





Packing shipping
For machine: usually by sea;
For documents: by international express, eg. DHL,TNT or EMS.
For packing :Free fumigation plywood packaging steel base
our service
1. Technical support online service provided.
2. Technical files service provided.
3. Machine operation video provided
4. On-site training service provided.
5.Spare parts replacement and repair service provided.
6 All of the questions will be replied within 8 hours
7. If you need to develop products with your own specification, we can help you to work it out.
8. Always be honest, never lie to customer, and never declare anything we don't have
Company Information
Since 1996,20 years' history for machine tool manufacturing
10 years' history for export
Total 2 manufacturing bases in china
Sino-germany technology cooperation
Production of 8 categories, more than 130 kinds of products
Set up design&research center at TAIWAN
Exported to total 48 countries in the world covered most areas
One-stop shopping for nearly all other types' machine tools




FAQ:
1)Q: Which trade term I can choose?
A: You can choose FOB,CIF, DDU or other terms. You can book ship or I can book ship for you.
2)Q: How can I get quotation from you?
A: You can make the inquiry online on Alibaba, or send email to us. It is better if you can tell what is your detailed request information. We will reply to you within 2 hours on work days, and within 24 hours on holiday.
3)Q: How can I choose right machine and how to assure quality?
A: You can choose machine on our website accodring to your request. Or You can let our seller know what is your request specifcation or what is your parts, so let our seller recommend suitable machine to you. We have do trade machine years, and export machine to over 100 countries. We have CE, ISO, SGS and other quality certificate.
4)Q: How can I make the payment?
A: We can make the deal on Alibaba online platform, you can pay by T/T or Credit card. You can also pay to my company business bank account. You can also choose L/C or other way.
5)Q: How long does it take to get machine?
A: If the machine you will order is standard machine, we can ready the machine within 15days. If special machine, please confirm with our seller. The ship time is about 30 days to Europe, America. If you are from Australia, or Asia, it will be shorter. You can place order according to delivery time and ship time.