1. Machine Tool Usage:
The gantry CNC drilling machine is mainly used for drilling/sinking/chamfering/tapping and light milling of rectangular pipe/plate/structural parts.
Ordinary rocker drill operates one machine by one person, which needs to draw lines, drill dies and process lead holes. It has high labor intensity, can not achieve continuous work, great safety hidden danger, poor accuracy and poor consistency of workpiece. CNC drilling can solve the above problems. One person can operate multiple machines, realize programming, three-axis linkage automatic positioning, low labor intensity, realize continuous work, increase production efficiency, small safety hidden danger, high accuracy and good consistency of workpiece.
2. Machine tool structure:
1,The machine tool is mainly composed of bed, worktable, gantry, power head, numerical control system, cooling system and so on.
2,The gantry CNC drilling machine adopts the form of fixed bed table and moving gantry.
(Shock absorber gantry structure)
3. Bed, column, worktable and gantry are HT250 casting structural parts,
bracket is rectangular pipe welded parts, high temperature annealing before processing, secondary annealing after semi-finishing to remove stress, and then finishing, which can ensure the accuracy of machine tools stable, the whole cast iron worktable is used to finish milling T-groove, and the table surface is CNC precision grinded to ensure the accuracy of the worktable.
4,The gantry CNC drilling machine has three CNC axes. The body of the machine is equipped with heavy linear guides. The gantry can move along the guide rail longitudinally (x-axis), the gantry beam is equipped with linear guides, the slide board can move along the guide rail horizontally (y-axis), the slide board is equipped with slides, the power head can move vertically on the slide board (z-axis), and the x, y and Z axes are all driven by CNC servo. The motor is driven by ball screw.
5,The spindle of power head is driven by precision spindle and servo spindle motor, which can be steplessly adjusted according to need. The spindle can clamp drill tap or milling cutter through BT40 chuck, and is equipped with pneumatic cutter cylinder to realize one-key tool change with higher precision and high speed cutting.
6,Machine tools are water-cooled, equipped with cooling fluid supply, recovery, circulation system, equipped with automatic oil lubrication system to ensure the smooth and long-term effective work of linear guide and ball screw.(Equipped with high-speed inward and outflow spindle, central outflow cutters can be used such as U drill, shovel drill, crown drill, alloy inward cooling drill, coring drill, etc.)
7.The control adopts Kandy CNC system, the electric drive adopts high precision absolute value series servo motor drive, equipped with RS232 interface and color display screen, Chinese operation interface, field/external USB input workpiece, easy to operate, equipped with full digital high-speed handwheel, so that your operation is more convenient and fast.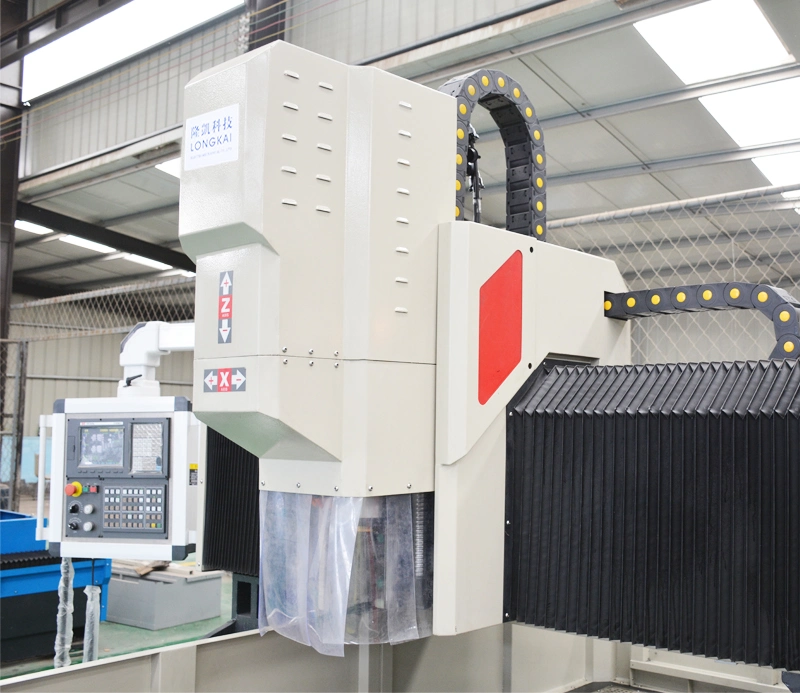 1.Technical parameters(There are differences in red markings.)
model
LK-1010
Max. workpiece size
L*W(mm)
1000×1000
Maximum thickness of workpiece(mm)
)
220
Vertical Sleeper Drilling Power Head
QTY
1
Spindle taper hole
BT40
Borehole diameter(mm)
Φ1-Φ36
Tapping diameter(mm)
M3-M16
Spindle speed(r/min)
30~3000
Servo Spindle Motor Power(kw)
torque(N.m)instantaneous torquecan be increase300%
7.5Kw
(100N.m)

Distance from lower end of spindle to worktable(mm)(mm)
200-600mm
Transverse movement of power head (X axis)
Max. travel(mm)
1000
X-Axis Moving Speed(m/min)
0~9
X-axis servo motor power(kw)
2.4*1 (15N.m)
Longitudinal movement of moving beam (Y axis)
Max. travel(mm)
1000
Y-Axis Moving Speed(m/min)
0~9
Y-axis servo motor power(kw)
2.4*1(15N.m)
Vertical Sleeper Feed Motion (Z Axis)
Max. travel(mm)
370
Z-Axis Moving Speed(m/min)
0~8
Z-axis servo motor power(kw)
2.4*1Brake(15N.m)
overall dimension
L*W*H(mm)
2500*1560*2200
Three-axis positioning accuracy
X/Y/Z
±0.05
Three-axis repetitive positioning accuracy
X/Y/Z
±0.025
Gross weight(t)
4.6
2. Main Component Catalogue
| | | |
| --- | --- | --- |
| name | brand | supply |
| Linear guide and square slide | Upper Silver/Square Rail/Flange Slider | Taiwan, China |
| Ball screw | Blue Sea/Silver/Ball Screw | Taiwan, China |
| CNC system | KND | Beijing China |
| Extreme Servo Motor and Driver | KND | Beijing China |
| Servo Spindle Motor | super-synchronous | Beijing China |
| BT40 Mechanical Spindle | Jingyao Spindle/Angular Contact Bearing | Chine |
| Pneumatic Knife Cylinder | AirTAC | Taiwan |
| Synchronization band | Volong8M*50 | joint venture |
| proximity switch | Delicious/Otonix | Korea |
| Other major electrical components | Omron/Schneider/Delicious | |
| Handheld remote control box | KND | joint venture |
| Wire and Cable | Shanghai Yichu High Shielding Line | domestic |
| Volumetric Automatic Lubrication System | Hurun | Taiwan |
| High Flexibility Shielded Cable | Yichu | joint venture |
The above supporting suppliers are designated suppliers of our company. In case of special circumstances, the two parties may negotiate and agree in writing with Party A to replace the products at the same level, but the quality standards are not lower than those of the above suppliers.Specific configuration can also be adjusted according to user needs.