FEATURES:
This series machine is suitable for machining parts in all industries.On the machine cylindrical turning and boring.tapering and surfacing as well as grooving and cutting off can be carried out rough and finishing.
The table adopts thrust ball bearing with high accuracy for rolling guideway.spindle radial is performed NN30 type double row cylindrical rolling bearing.so it can improve the rotary precision and load capacity of the table.

The rail head is equipped with pentagonal turret,and the side head is designed with square turret.The two heads are all adopted the hydraulic balance.

The rail head is adopted sliding leadscrew bearing for transmission in horizontal and vertical movement.
Overall dimensions of machine is beautiful and it is delightful for people to use.It is easily for maintenance and service.

The attachment of side head,digital control and turning taper can provided on special reqirement.

Major electrical components are Siemens.Side turret and 3-axis are optional accessory.

Square ram turret or Pentagon turret can be selected by customer.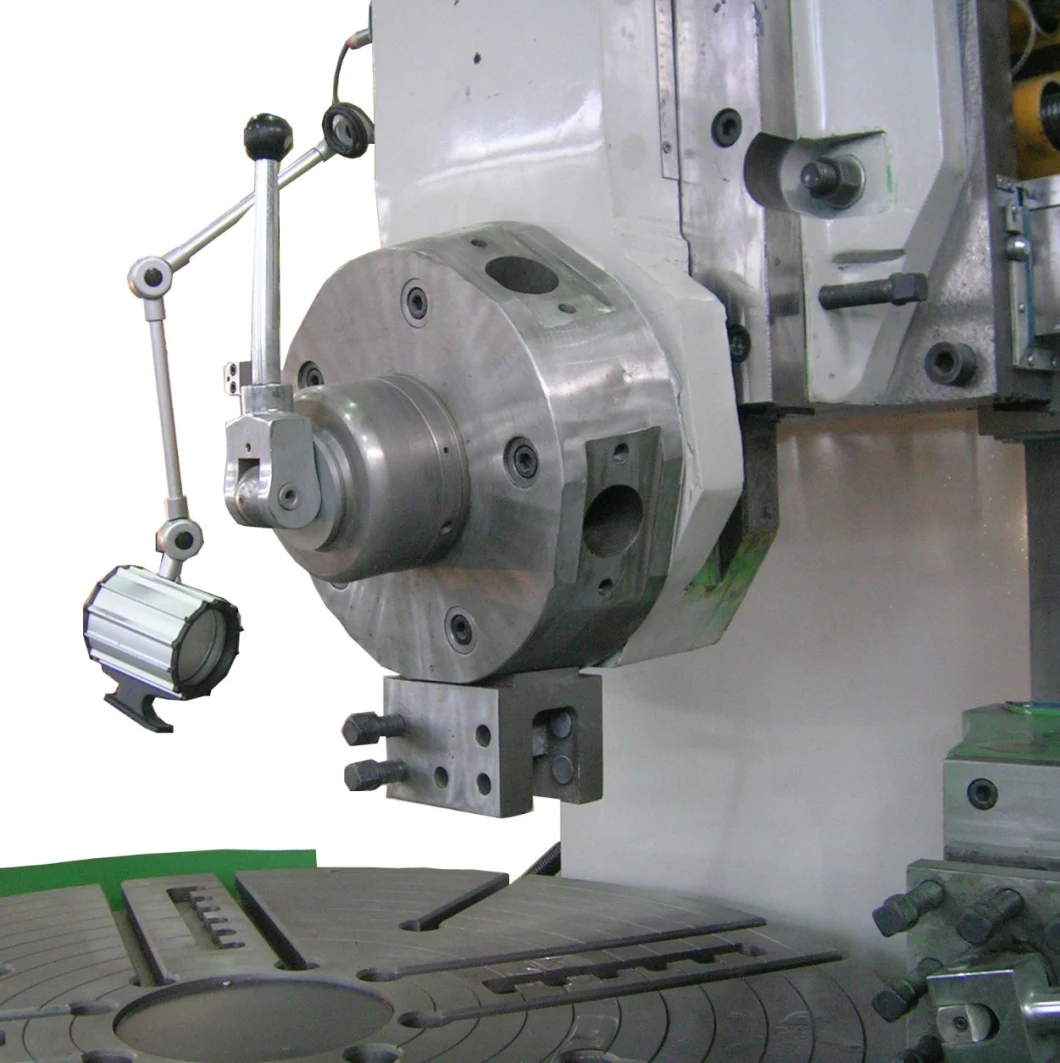 SPECIFICATIONS:
LC5120Q
LC5116Q
LC5112Q

Max.turning diameter

2000mm

1600mm

1250mm

Table diameter

1800mm

1400mm

1010mm

Max.height of workpiece

1250mm / 1600mm

1000mm / 1400mm

1000mm / 1400mm

Max.weight of workpiece

8/12T

5/8T

5T

Max.cutting force of rail head

25kn

20kn

Max.cutting force of side head

20kn

20kn

Max.torque of table

32kn.m

25kn.m

17.5kn.m

Range of table speeds (16steps)

2.5~125r/min

5~160r/min

6.3~200r/min

Swivel of rail head

±30°

Range of feed rates (12steps)

0.8-86mm/min

Ram travel of rail head

800mm

650mm

Ram hor. travel of side head

630mm

500mm

Vertical travel of side head

1180mm

980mm

970mm

Rapid traverse of tool heads

1800mm/min

Height of tool bar section

40mm

Power of main motor

AC:37kw

AC:30kw

AC:22kw

Overall dimensions(L x W x H)

3210x4050x4200mm

2830X2870X3870mm

2360x2470x3480mm

Weight of machine(Approx.)

17.5/17.8T

13.8T/14.1T

8.3T/8.9T