Gantry C
NC
M
achining
C
enter
Gantry CNC
M
achin
ing
T
ool
Big Scale Gantry CNC Maching Center
Gantry CNC Machine Tool
Gantry Vertical Machining Center
Vertical Gantry Machine Tool
The gantry processing center is a CNC machine tool for the worktable movement. When the worktable is moved, a DC or AC motor is used to carry out the X axial transmission, and the transmission form corresponds to different data according to the different length. When the moving length of the worktable is 8M, the transmission mode of double teeth gear is adopted.

The worktable of gantry processing center is two directions of horizontal or vertical line, which can process large workpieces. The length of the X axial guide is two times the length of the worktable, and the length of the protective cover on both sides is added, and the machine should take up a large area of the work site.

The worktable mobile gantry processing center has a lot of savings. There are two kinds of movement and friction in its worktable, which are two kinds of moving and static. The movement features are uniform and low speed without crawling, the positioning accuracy is high, the traction force, the accuracy of the maintenance, the long service life, the simple maintenance and so on.

The numerical control gantry machining center, which can precisely process parts, has many advantages. The most obvious is its accuracy in processing, because of its high accuracy, it can even make a difference in such fields as aerospace. And it can collect many functions in one device, so it also has many kinds of technological means. In addition, it is widely used, and it can also process workpieces with complex shapes, which can not be realized by many common equipment. By contrast, it is much more efficient than ordinary equipment.
Main
A
pplication
A
reas:
Automobile manufacturing, spare parts processing;
Toy industry, parts processing and molding
Hardware and mechanical parts processing and rapid prototyping
Spare parts processing and rapid prototyping for electronic and electrical industry
Rapid prototyping and processing of building materials, ceramics and hardware industry
Gantry CNC Machinng Center is mainly used for processing large parts, for the platform, hole and other cavity complex surface professional processing.
The Gantry CNC machine tool center has different forms of milling heads, so once the workpiece is clamped, the machining of the five faces of the workpiece will be finished automatically. For large workpiece (width, length, weight) processing, according to the situation to choose different models to achieve processing.
Main
M
achined
P
arts:
General type
Light industry
Aviation Industry
Boating Industry
Metallurgy
Instruments and Apparatus
Electric appliance
Stainless Steel Products
Steel structure building
Architectural decoration
Carpentry
Plastic
Aluminium parts
All general-purpose machine parts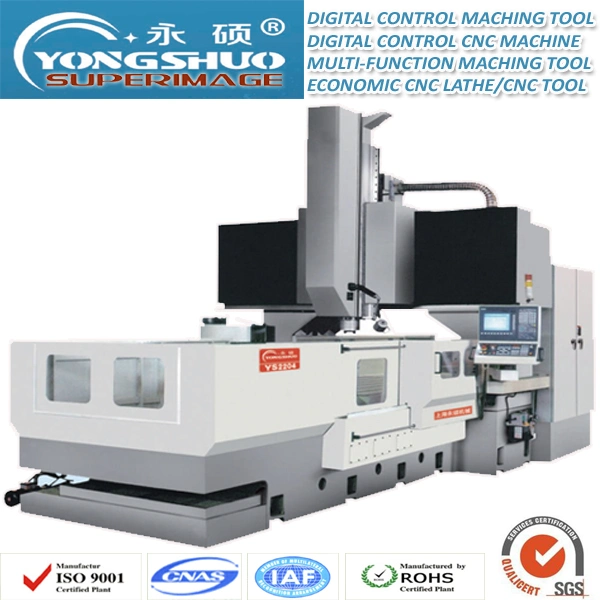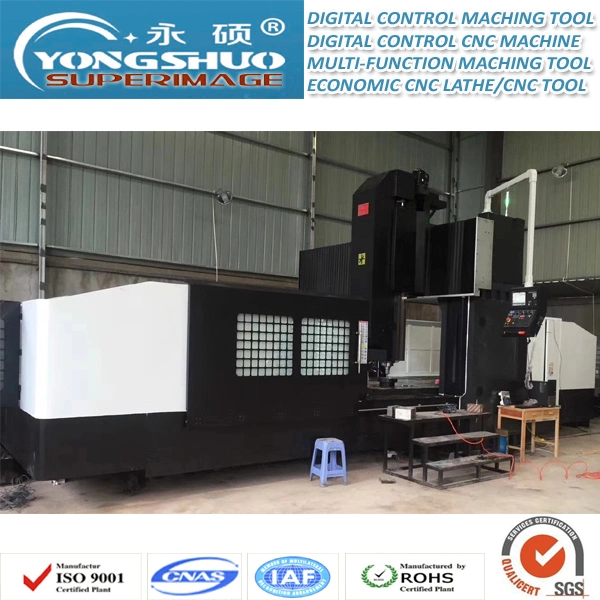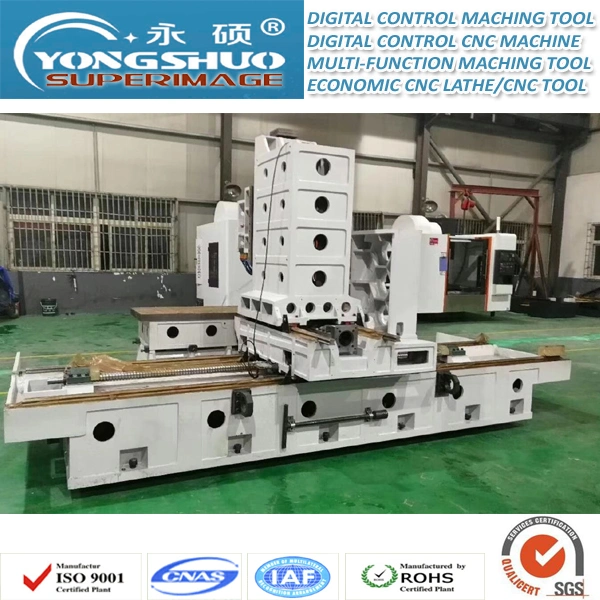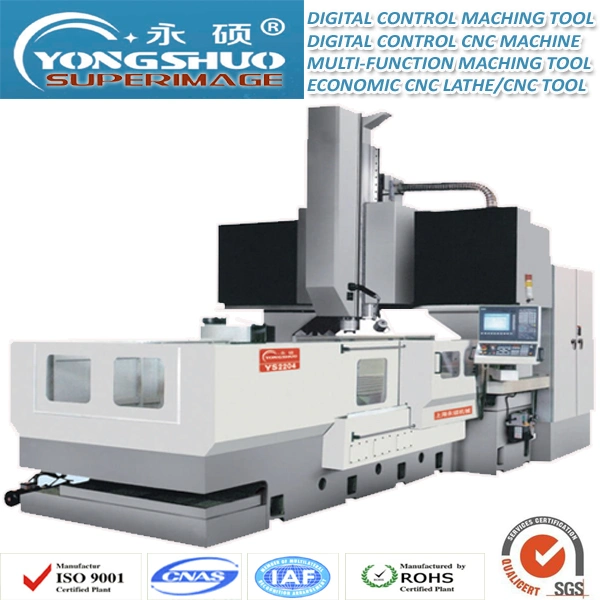 Main
P
arameters
Specification List
:
TECHNICAL DATA
YS10
YS1120
YS13
YS15
YS18
YS22(C)
YS25

Classify

12/14/16

20

30/35

20/30/40

25/30/35

30/40/50/60

40/50/60

Workbench Length(MM)

1.4/1.6/1.8

2

3/3.5

2/3/4

2.5/3/3.5

3/4/5/6

4/5/6

Workbench Width(MM)

900

900

1000

1200

1600

1800

2300

Process Distance In X-axis(MM)

1.2/1.4/1.6

3/3.5

3/3.5

2/3/4

2.5/3/3.5

3/4/5/6

4/5/6

Process Distance In Y-axis(MM)

1100

1100

1400

1650

2000

2200

2700

Process Distance In Z-axis(MM)

800

800

800

800

1000

1000(1250)

1000(1250)

Gantry width

1150

1150

1400

1650

2000

2200

2700

Worktable to Spindle Nose(MM)

1

50-950

60-860

70-870

115-915

250-1250

250-1250

260-1260

Max. Loading Weight(KG)

1.5

2

5/7

3/5/7

5/6/7

6/10/12/15

15/18

T-Groove Width/Spacing(MM)

7*22-125

7*22-150

7*22-150

7*22-170

9*22-180

9*22-180

9*22-180

Range of Spindle Speed(RPM)

BT50-190-6000

BT50-190-6000

BT50-190-6000

BT50-190-6000

BT50-190-6000

BT50-200-6000

BT50-200-6000

X-motor on-link Mode

D

irect connection

Belt

1:2.5Belt

1:2.5Belt

1:2.5Belt

1:2.5Belt

1:2.5Belt

YZ-motor on-link Mode

D

irect connection

D

irect connection

D

irect connection

1:2.5Belt

1:2.5Belt

1:2.5Belt

1:2.5Belt

X-axis Ball Screw Specification

5010

6310

8016

6310/8610

6316/8016/8016

8016

8016

YZ-axis Ball Screw Specification

5010

5010

5010

5010

Y6310/Z5010

Y6310/Z5010

Y6310/Z5010

X-axis Line Guide Specification(MM)

45PIN Roller

45PIN Roller

45PIN Roller

55PIN Roller

55PIN Roller

55PIN Roller

55PIN Roller

Y-axis Line Guide Specification(MM)

45PIN Roller

45PIN Roller

45PIN Roller

55PIN Roller

55PIN Roller

55PIN Roller

55PIN Roller

Z-axis Line Guide Specification(MM)

Rectangular Rail

45PIN Roller

Rectangular Rail

Rectangular Rail

Rectangular Rail

Rectangular Rail

Rectangular Rail

Principal Axis Motor(KW)

18.5

22

22

22

26

26

26

Gantry Weight(T)

13-14

15

22/26

26/29/31

28/31/33

36/42/48/55

50/58/66