Product Description
MM-D460

/ Metal Lathe /

Engine Lathe /

Manual Lathe / Gap-bed Lathe /

Conventional Lathe

/ Universal Lathe / Precision Lathe / Turning Lathe / Heavy-Duty Lathe / Horizontal Lathes / Lathe Machine / Mechanics Lathe
This MM-D460 Heavy Duty Engine Lathe / Lathe / Metal Lathe / Lathe Machine / Manual Lathe / Gap-bed Lathe / Precision Lathe / Turning Lathe / Horizontal Lathes with THREE PHASE INDUSTRY Powerful MOTOR has many main Features for demanding users.


Heavy Duty High Precision Gear Head Lead Screw Metal Turning Engine Lathe Machine with Adavanced Technology, Complete Equipment, Easy-To-Operate, Perfect For Small Industry.


Heavy centre lathe completely equipped, particularly smooth running and low-vibration. Substructure and machine bed cast in one piece.
Main Feature :
Convincing Arguments: Quality, Efficiency and Price
-Hardened and ground bed guide-ways
-Camlock spindle seat DIN ISO 702-2 No. 6
-Coolant equipment with separate coolant tank separately with filling level display and oil separator
-Easy and compete draining and cleaning according to DIN
-Guaranteed true running accuracy of the spindle nose of better than 0.015mm
-Right-handed / Left-handed rotation on the bed slide switchable via stem
-Mechanic longitudinal feed Switch-off of the slide with four adjustable eccentric
-Cover for leading spindle
-Foot brake
-Electrical system with Siemens components
-First filling with high grade Mobil oil
-Adjustable scale of the threading gauge
-Halogen machine lamp with articulated arm
-Quick action tool holder with tool holder for square tools
-Central lubrication at the bed slide
-Digital Position Display is Optional
-Considerable reduction of the manufacturing times
-High working accuracy
-Error rate is reduced
-Clearly-arranged keyboard
-Certificate of Original (CO, FORM A, FORM E, FORM F )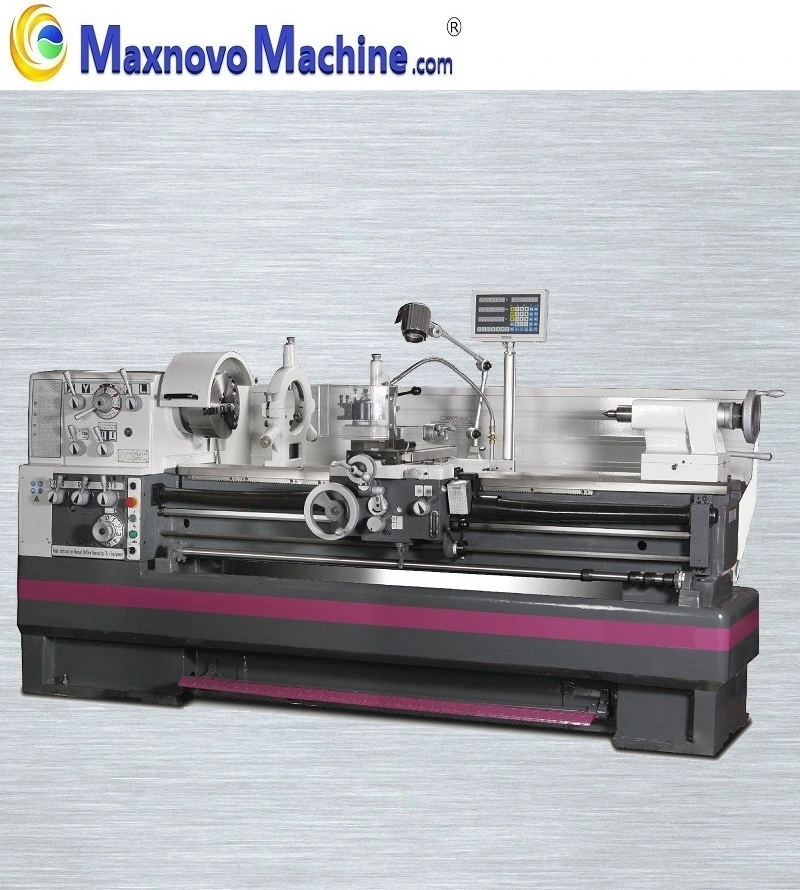 Technical Data :
Product Name :

Heavy Duty Metal Centre Engine Lathe Machine

Product Item :

MM-D460X1000

MM-D460X1500

MM-D460 X 2000

Machine Data

Max Swing over Bed :

Ø 460 mm

Ø 460 mm

Ø 460 mm

Distance between Centers :

1000 mm

1500mm

2000mm

Turning over Cross Slide :

Ø 270 mm

Ø 270 mm

Ø 270 mm

Turning Diameter in Bed Bridge :

Ø 690 mm

Ø 690 mm

Ø 690 mm

Centre Height :

230 mm

230 mm

230 mm

Length of Bed Bridge :

240 mm

240 mm

240 mm

Bed Width :

300 mm

300 mm

300 mm

Spindle Speed :

25-2000 RPM

Number of Steps :

12 Steps

Headstock

Spindle Taper :

MT 6

Spindle Seat :

Camlock DIN ISO702-2 Nr.6

Spindle Hole, rod passage :

Ø 58 mm

Slide

Travel Top slide :

128 mm

Travel Cross slide :

285 mm

Longitudinal feed in range of :

0.031-1.7 mm/rev (40 feeds)

Transverse feed in range of :

0.014-0.784 mm/rev (40 feeds)

Pitch-Metric in the range of :

0.1-14mm / rev (53 thread pitches)

Pitch-Inch in the range of :

2-112 TPI (40 thread pitches)

Trapezoid thread in range of :

4-112 (50 trapezoid thread)

Modular Thread in range of :

0.1-7 (34 modular thread)

Height of quadruple tool holder :

Max. 25 X 25 mm

Tailstock Taper :

MT 4

Tailstock -- Sleeve Travel :

130 mm

Main Motor :

5500W

Coolant Pump Motor :

100W

Connecting Voltage :

Three Phase 400V

Gross Weight :

1950 KGS

2300 KGS

2500 KGS

Packing Size:

2250 X 1245 X 1650 mm ( For MM-D460 X 1000 )




2800 X 1245 X 1650 mm ( For MM-D460 X 1500 )




3350 X 1245 X 1650 mm ( For MM-D460 X 2000 )

Standard Accessory :

3-Jaw Chuck Ø 250mm, 4-Jaw Chuck Ø 300mm, Face clamping disc Ø 350mm, Machine Substructure, Coolant Equipment, Change Gear Kit, Machine Lamp, Tools and Toolbox
We are Recognized OEM / ODM manufacturer cooperation with world Famous Germany Machinery Companies for more than 25 years, As a result, Our Team has Prodessional Experience and Innovation Technology to support customers in worldwide. If you want to buy Machine Tools, Welcome to visit our company website to send your enquiry to us, Our team is willing to cooperate with you together.
FAQ:
1. Question: Are you a factory or trading company?
Answer: We are an SGS recognized OEM/ODM manufacturer factory with export license. We have an outstanding and experienced team made up of "A" player who have a passion for doing something great to create more value for customers world-wide.


2. Question: Why choose cooperate with us?
Answer: Right people, Right product, Right price;
Company-wide customer awareness;
Reliable Quality and All components from world leading suppliers;
Cost-effective export infrastructure and total supply chain management;


3. Question: Where is your factory located? How can I visit there?
Answer: With an ISO90001 certified factory located in Yangzhou city, Jiangsu Province, P. R. China. It takes about 2 hours from Shanghai by train. It is very pleasure for clients to visit us.


4. Question: Can you do OEM?
Answer: Yes, we have the ability to do OEM / ODM to meet clients' requirements.


5. Question: How does your factory do regarding quality control?
Answer: Assuring Quality is our dignity and quality control engineers specially be responsible for quality checking in each process such as Incoming Quality Control, In Process Quality Control, Outgoing Quality Control, Environment Control, Product Traceability System, Internal Audits & Calibration, Equipment Control & Maintenance, Control of Non-Conforming Materials and etc.