Horizontal Directional Drilling Machine
[Main Performance Characteristics]
1. Main power:
a) With 410KW*3 sets of Dongfeng Cummins engine, the electrical-control power control system can realize perfect coordination with hydraulic system power in all kinds of project conditions with strong power and energy saving. With independent power station, the structure is designed according to container dimension, which is convenient to transport.
b) The machine can work by means of single engine, as well as two engines or three engines combination according to project requirements. The power station can be arranged independently according to the structure and size of the container for easy transport.
c) The diesel engine monitor system is based on several safety protection measures, which is easy to observe, record diesel engine status, and can protect the diesel engine immediately when there are problems and operation condition which is not good for diesel engine.
2. Hydraulic system:
a)Main driving oil pump: It is equipped with original imported German Rexroth high-pressure large-flow swash plate axial plunger pump, with electronic control of constant power, pressure cutting off, as well as electric proportional displacement control, which realizes flow supply according to the require, avoiding pressure loss and flow loss, and it contains pressure automatic protection, making hydraulic system operation much safer and energy saving.
b) Main control valve: according to construction, it is independent design with patent protection main switch valve. Simple and reliable structure ensures trouble-free operation, big drift diameter design, less throttling loss, lower temperature, energy saving, compact shape, reasonable layout is used to rig power system.
c) Rotation, push-pull hydraulic motor: well-known and leading standard German Rexroth high pressure axial plunger motor, which is used to high pressure and low speed condition, when pull pipe, it is strong and stable, ensures safety and reliability of the construction.
d) Main hydraulic system: compared to closed-circuit system, high pressure electric proportional control open-circuit system, there is no pressure difference loss because of no-oil-adding pressure, system is more energy saving, rig ability is much improved.
e) Push-pull and rotation control: power head rotation and push-pull speed is full proportional linear infinitely variable speed. Working pressure can be remote control voltage regulated, it is easy to adjust torque and push-pull force any time, ensure project and drilling tools safety.
f) Auxiliary hydraulic system: the open-circuit is composed of classic Sauer high-pressure load sensitive oil pump+ proportional control multi-way valve, ensure unscrewing capacity of clamping. Meanwhile, all auxiliary movement control is more accurate, reliable and stronger.
g) Hydraulic accessory: big-capacity filter with large dirty hold ability ensures system cleanness degree and extend maintenance interval; key tube adopts original Italy imported high pressure steel wire hose.
h) Quick tube connection system: Italy original imported high press big diameter quick connector+ Italy original imported high-pressure steel wire hose, ensure quick and reliable connection and disconnection between rig and power station, in the process, small oil leakage can meet crucial environment requirement.
3. Electrical system:
a) Software: includes a series of independent design safety control system and auxiliary control software, such as "vehicle self-diagnosis system", "automatic pendulum drilling system", "electrical pressure cut system (automatic pressure protect)", "temporary limit automatic cancel function", more humanized design and strong debugging ability, making full use of rig capacity, enhancing work efficiency.
b) Hardware: American imported original controller specialized in construction machine, can adapt to bad project environment, waterproof, shockproof, dustproof, prevent electromagnetic interference, which is already fully approved safety operation in excavator, ensure reliable operation of electrical control.
4. Structure design characteristic
a) The main rig is trailer type (the tug can be turned independently). It can directly walk on the ordinary road after connecting with the front of the car. The main rig is equipped with an auxiliary engine to provide power for the independent steering of trailer, which facilitates transportation and swerve.
b) Power station and operation cabin are skid-mounted, and the design of joint conform to container requirement.
c) The main rig luffing device is adopted for small range movement without headstock and assisting swerving
d) 12 sets of push & pull motor equipped with manually high-strength large-torque clutch can be performed alternatively to extend the life of motors and reducers. Rotation motor is equipped with two clutches.
e) The transmission type of driving head is rack & pinion
f) The floating spindle is convenient to unbuckle and can eliminate alternating stress, which can extend lifespan of rods.
g) Clamp is all floating. The front clamp and rear clamp can be separated. The grip holder can be changed in accordance with rod dimension.
h) Wire controlling is adopted for the rig.
i) The machine is equipped with slurry pressure releasing device.
j) Independent operation cabin can accommodate a few people, having capacious and wide-view, and it is equipped with air-conditioner.
k) The aisle and guardrail are fitted on the one side and the end of the girder
l) Mud pump station and mud mixing system are detachedly equipped and optional
m) Equipped with manipulator to enhance the efficiency of loading/unloading rods
n) High wear-resistance and high shock-resistance alloy steel rack & pinion.
[Main Technical Parameters]
| | | | |
| --- | --- | --- | --- |
| Rig Weight | 67 t | Rig Dimension(L*W*H) | 21600*2700*3900 (mm) |
| Engine Power | 3*410 kW | Max. Working Pressure | 35 MPa |
| Max. Torque | 210000 N·m | Max. Push & Pull Force | 8040 kN |
| Max. Rotation Speed | 90 rpm | Max. Push & Pull Speed | 42 m/min |
| Max. Clamping Force | 1526 kN | Max. Unscrewing Force of Pipe Jaw | 610000 N·m |
| Drill Pipe Diameter | Φ168mm-Φ254mm | Max. Length of Drill Pipe | 9.6 m |
| Drill Incidence Angle | 9°-16° | Max. Mud Pressure | 20 MPa |
| Main Spindle Floating Distance | 110 mm | Max. Mud Flowing Volume | 3000 L/min |
| Power Station Size(L*W*H) | 6100*2500*2700 (mm) | Mud Pump Channel Diameter | 4'' |
| Permitted Enviroment Humidity | > 90% | Permitted Working Temperatue | -30°~50°C |
| Max. Aperture Diameter | Φ2000mm(Soil Depended) | Max. Crossing Length | 3000m(Soil Depended) |
Product Photos ]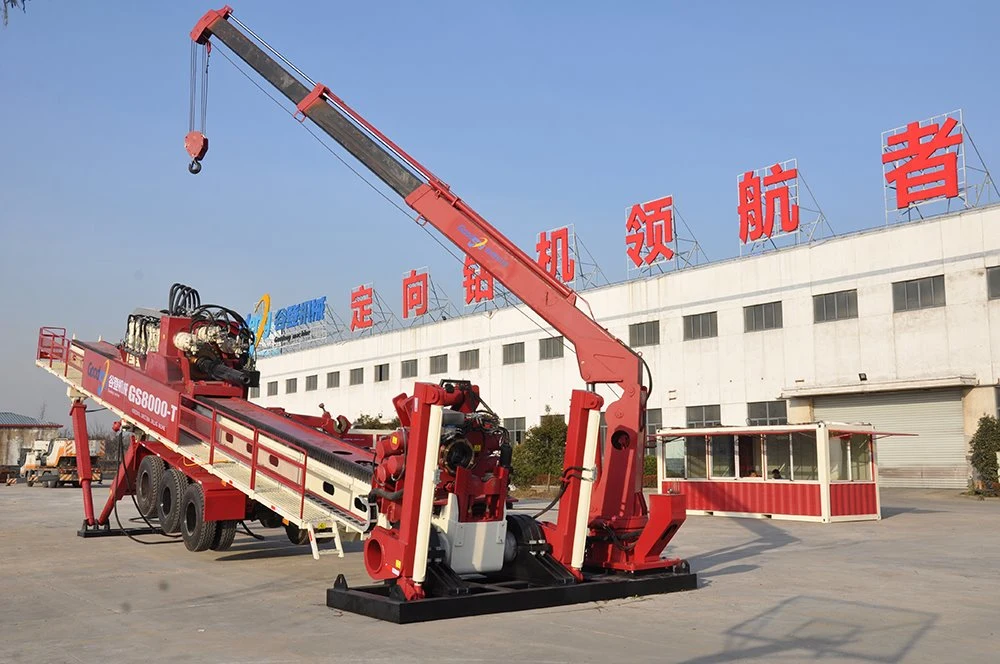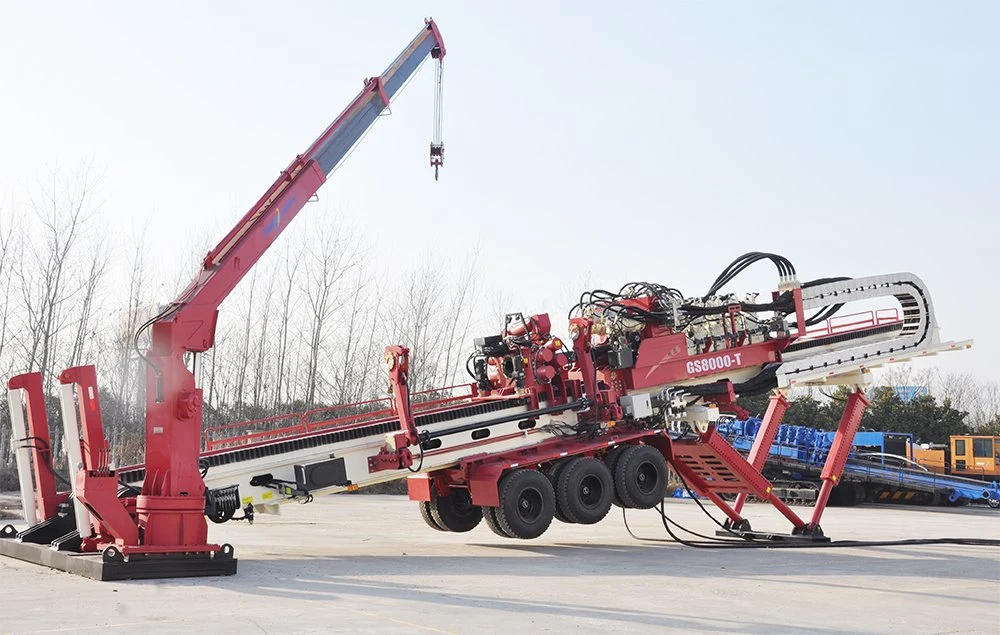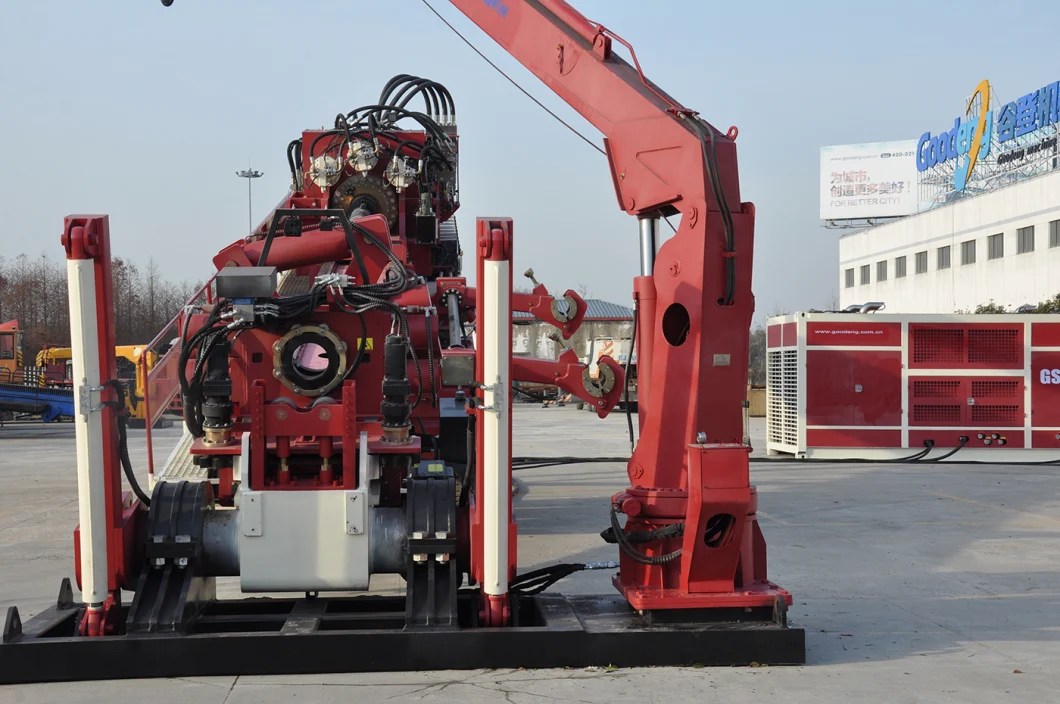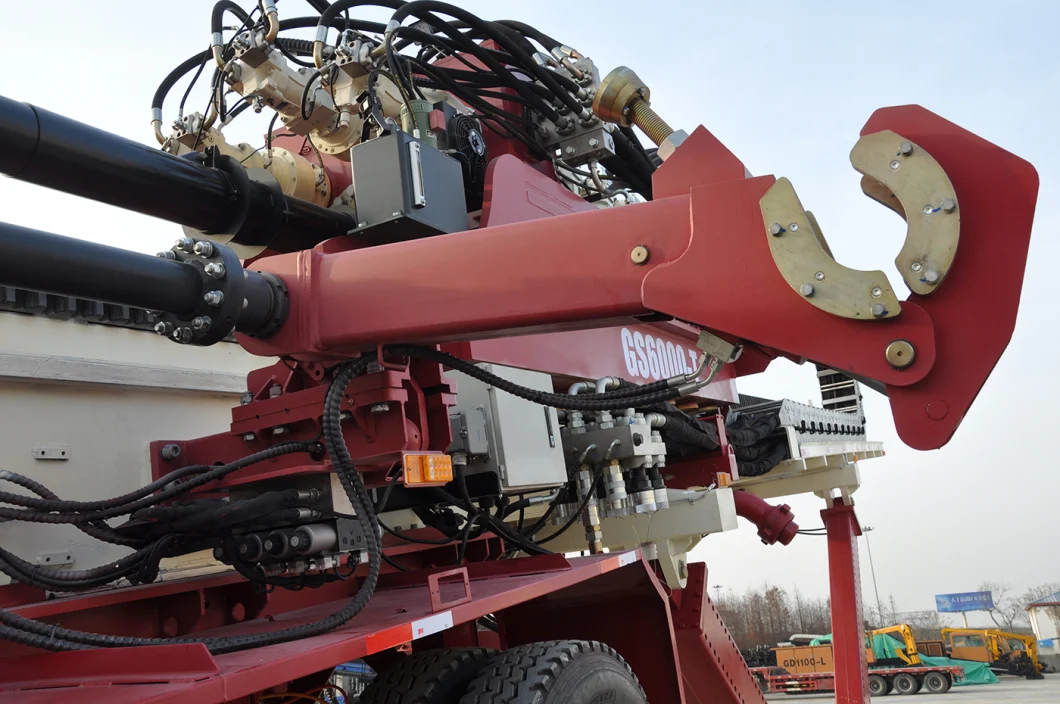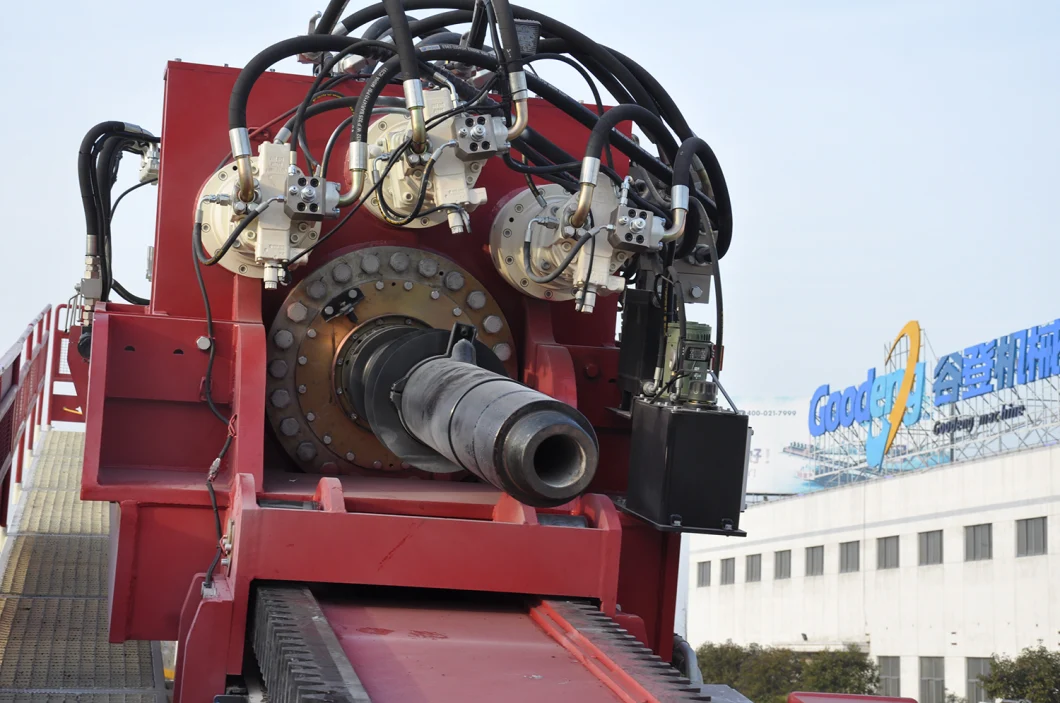 [Company Information]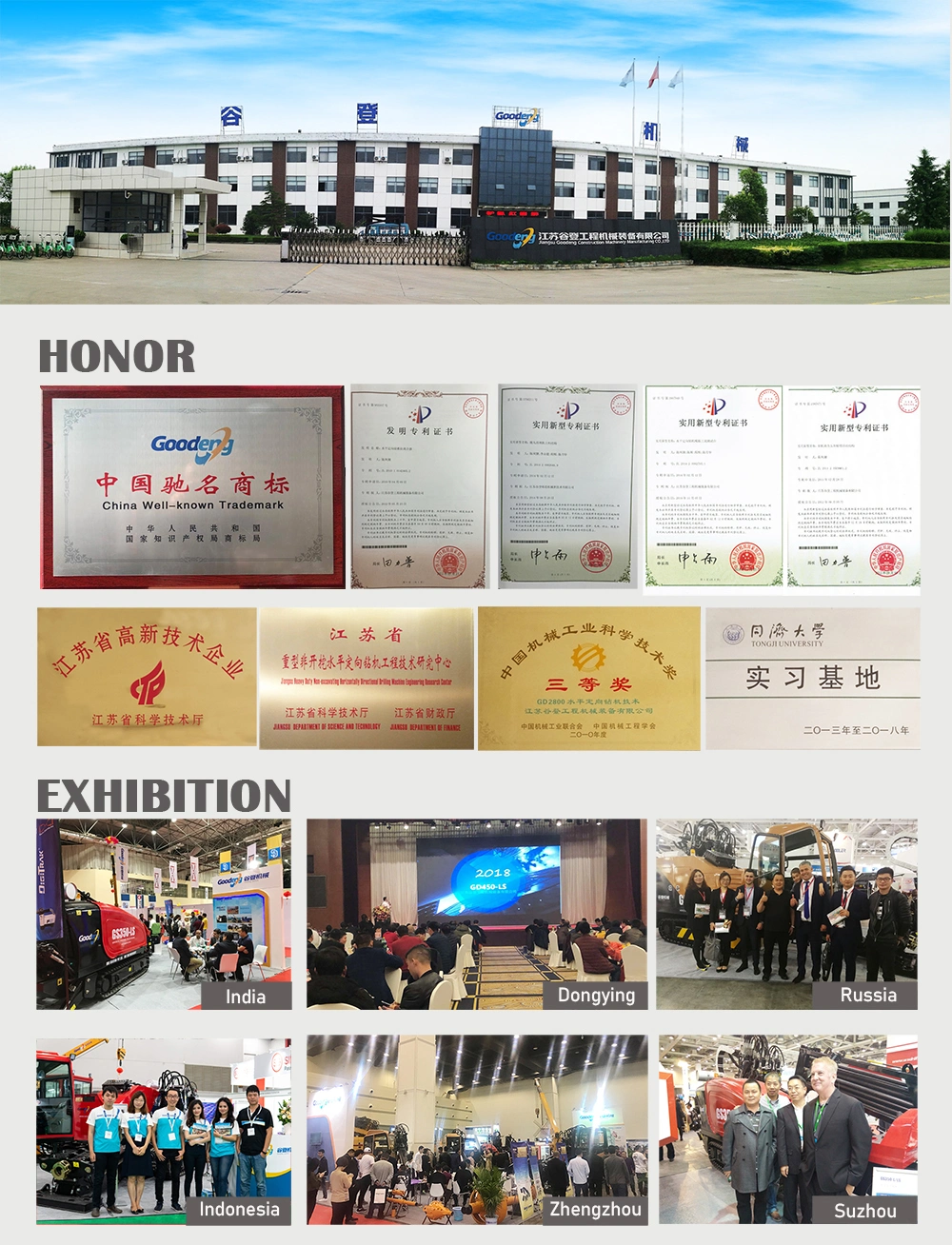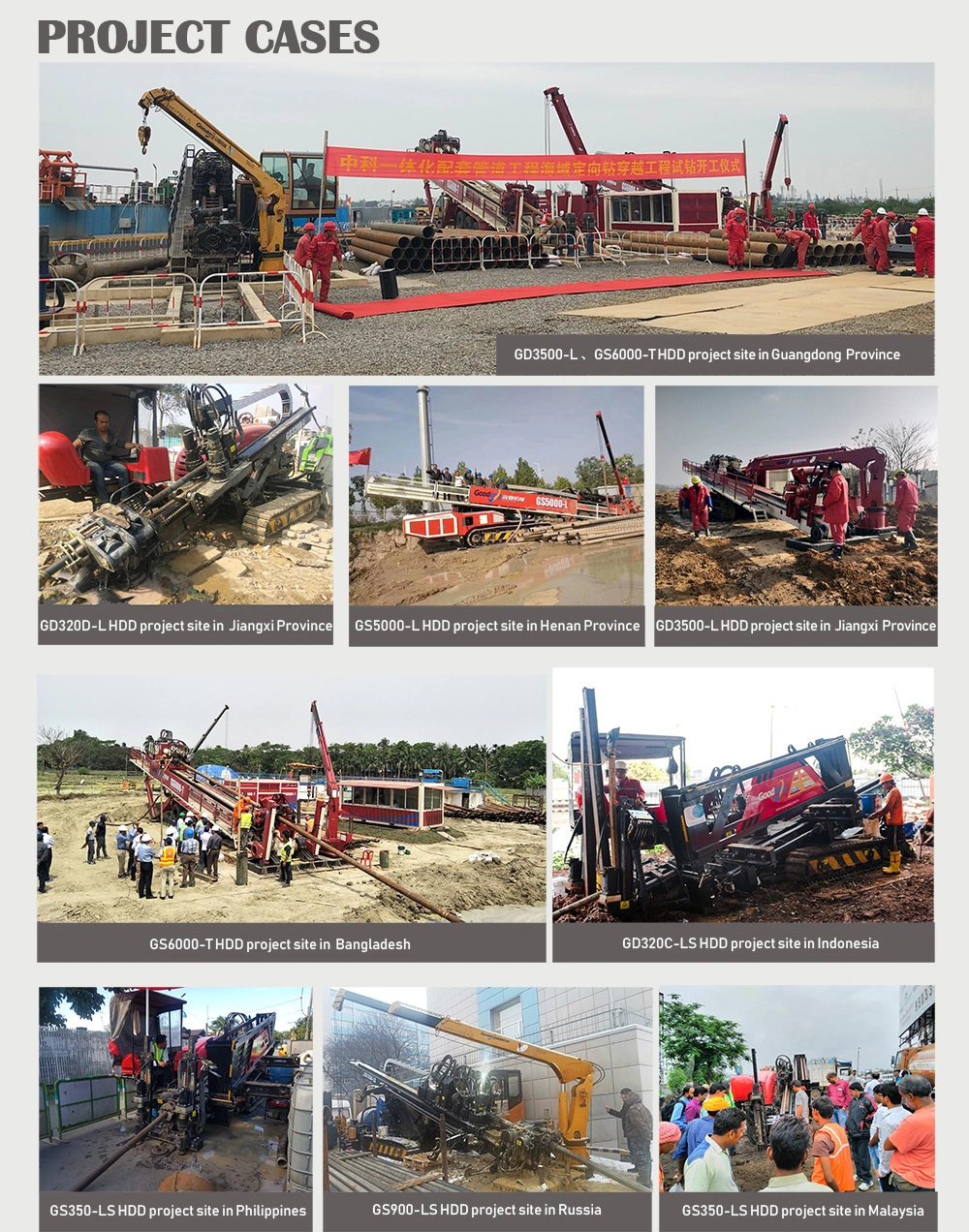 [Company Profile]
"Goodeng Machine", founded in May 2002, is a national high-tech enterprise, which is specialized in research & development, manufacturing, sales and service for trenchless equipment. Our main products are GD/GS series of horizontal directional drilling machine and accessories. As Mechanization Research Branch industrialization base of China Academy of Building Research, Goodeng Machine has independently developed almost 30 models of horizontal directional drilling machine from 5T to 1200T with strong and professional R & D team's support, which has filled in multiple domestic and foreign technical blanks. Many kinds of products have obtained national and provincial progress prize in science and technology of machinery industry. In 2018, "Goodeng Machine" had honor to get the Chinese Well-Known Trademark, which is the only enterprise to acquire in China's trenchless industry.
[Competitive Advantage]
1. Competitive Price:

We are the professional manufacturer of horizontal directional drilling machine.
From numerous comparisons and feedbacks from clients, our price is more competitive than other factories.
2. Quick Response: Our team is consisted of a group of deligent and enterprising people, working 24hrs/day to respond clients' inquiries and questions all the time. Most problems can be solved within 12 hours.
[FAQ]
1. What about the warranty time?
A:12 months after shipment or 2000 working hours,whichever occurs first.
2. What about the delivery time?
A:20 days after receiving the deposit.
3.What kind terms of payment can be accepted?
A:On T/T term, 30% down payment is required in advance, and 70% balance shall be before shipment, or
against the copy of original BL for old client.
On L/C term, 100% irrevocable L/C without"soft clause" can be accepted.
4.What logistics ways we can work for shipment?
A: We can ship machine by sea and road.