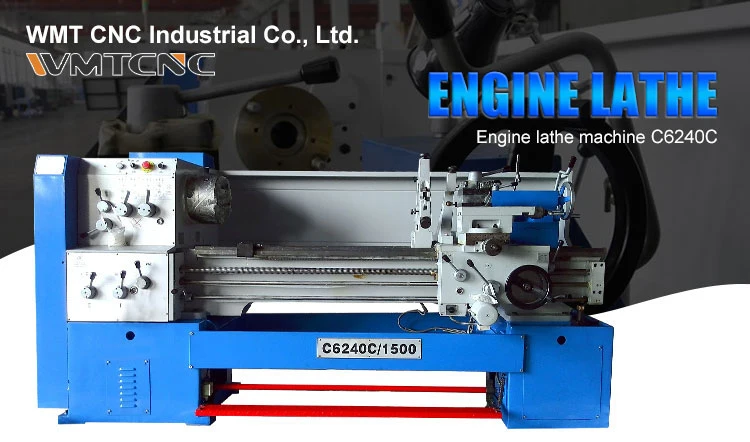 Feature
Hardened and ground bed ways.
Gears in headstock precisely ground to reduce noise.
Kinds of threads.
Electric system is reliable and safe.
Electromagnetic brake can be amounted when needed, and color at user option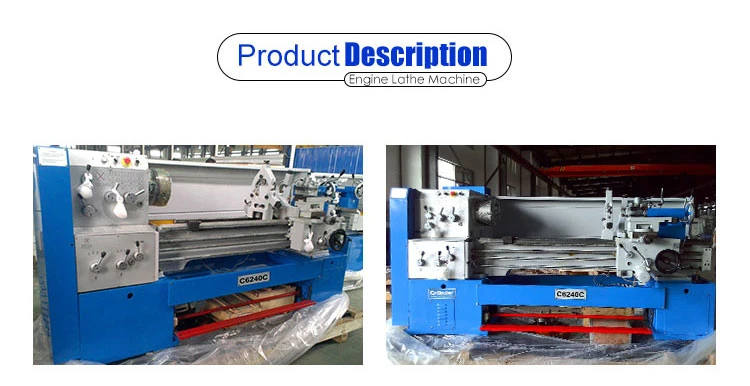 Main specification :
Model
C6236C
C6240C
C6250C
C6260C
CAPACITY
Max.swing over bed
360mm
400mm
500mm
600mm
Max.swing over cross slide
190mm
230mm
330mm
330mm
Max.swing over gap
520mm
560mm
660mm
760mm
Effective length of gap
200mm
Center Distance
750\1000\1500mm
2000mm
Bed Width
360mm
HEADSTOCK
Spindle hole
52mm
Spindle nose
ISO-C6
Spindle taper
MT6
Spindle speed(Number)
(9steps)40-1400rpm
FEEDS
Metric threads range
19kinds 0.25-14mm
Inch threads range
49kinds 2-40inch
Moudle threads range
11kinds 0.5-3.5mπ
CARRIAGE
Max.travel of top slide
95mm
Max.travel of cross slide
180mm
200mm
250mm
250mm
Max.size of toolshank
20*20mm2
TAILSTOCK
Dia.of tailstock sleeve
65mm
Taper of tailstock sleeve
MT4
Max.travel of tailstock
140mm
MOTOR
Main drive motor
4KW
5.5KW
7.5KW
Coolant pump motor
125W
PACKING
L*W*H
Center Distance(750mm)
225*115*175cm
Center Distance(1000mm)
245*115*175cm
Center Distance(1500mm)
295*115*175cm
Center Distance(2000mm)
345*115*175cm
N.W/G.W
Center Distance(750mm)
1350/1750kg
1400/1800kg
1500/1900kg
1600/2000kg
Center Distance(1000mm)
1450/1850kg
1500/1900kg
1600/2000kg
1700/2100kg
Center Distance(1500mm)
1600/2000kg
1650/2050kg
1750/2150kg
1900/2300kg
Center Distance(2000mm)
1750/2150kg
1800/2200kg
1900/2300kg
2050/2450kg
Standard accessories:
3-jaw & 4-jaw; Steady rest & follow rest;
Face plate; Drive plate; Thread-cutting diameter; Longitudinal touch stop; Work lamp; Coolant system; Full-length splash guard; Foot brake and brake ribbon; Change gears; Dead centre and centre sleeve; Oil gun; Padding; One whole set spanner.
Optional accessories:
Rapid travel
Live centre
Digital readouts (SINO)
CE-conformity (Chuck guard and Tool-post guard)
Magnetic electrical brake
Taper cutting function.