Heavy Duty CNC Lathe Machine CNC Turning Machine (CK6150A)





Specifications

ITEMS

Specifications

Max. swim over bed

Φ500mm

Max. swim over carriage

Φ280mm

Max. length of work piece

750mm

Width of the machine

400mm

Size of three-jaw chuck

250mm

Range of spindle speed

150-2000rpm

Spindle bore

Φ82mm

Taper of spindle bore

Type of spindle head D-8

Stations of tool carrier

4

Min. setting unit of motor

(Z) long 0.001mm,
(X) cross 0.001mm

Moving speed of post

(Z) long 8 m/min,
(X) cross 6 m/min

Taper of tailstock quill

MT5

Max. range of tailstock quill

150mm

Motor power

7.5KW

Packing size(length ×width ×height)

2570 mm×1400mm×1650mm

Net weight

3200kg
Main features:
1. After the lead rail of the machine is treated by superaudio quenching and finish
grinding and plastic coating, it is of good rigidity and stability.
2. Independent spindle, stepless speed regulation, with lower noise and high
standard machining accuracy, is an environmental- protective machine.
3. The spindle is the high rotate speed and sophisticated bearing, with smooth
surface.
4.The extra size diameter of the spindle bore is φ60mm while the diameter of chuck is φ250mm.
Standard configuration:
1. System:GSK928TD-L,
2. 3 jaw manual chuck
3. 4 station tool
4. Manual tailstock
5. Lighting system
6. Cooling system
7. Automatic lubrication system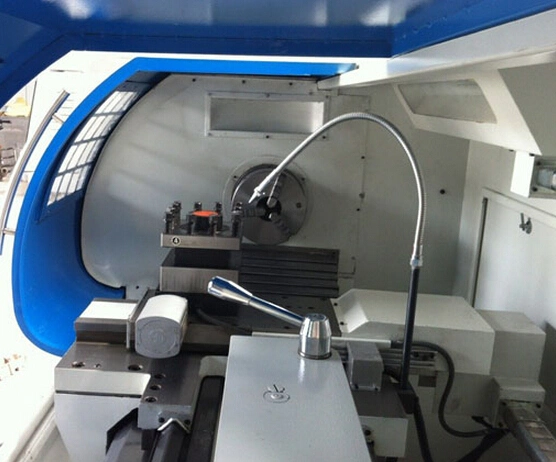 Optional accessories:
1) pneumatic chuck
2) hydraulic chuck
3) pneumatic tailstock
4) hydraulic tailstock
5) enlarged bord , two gears, variable frequency speed regulation