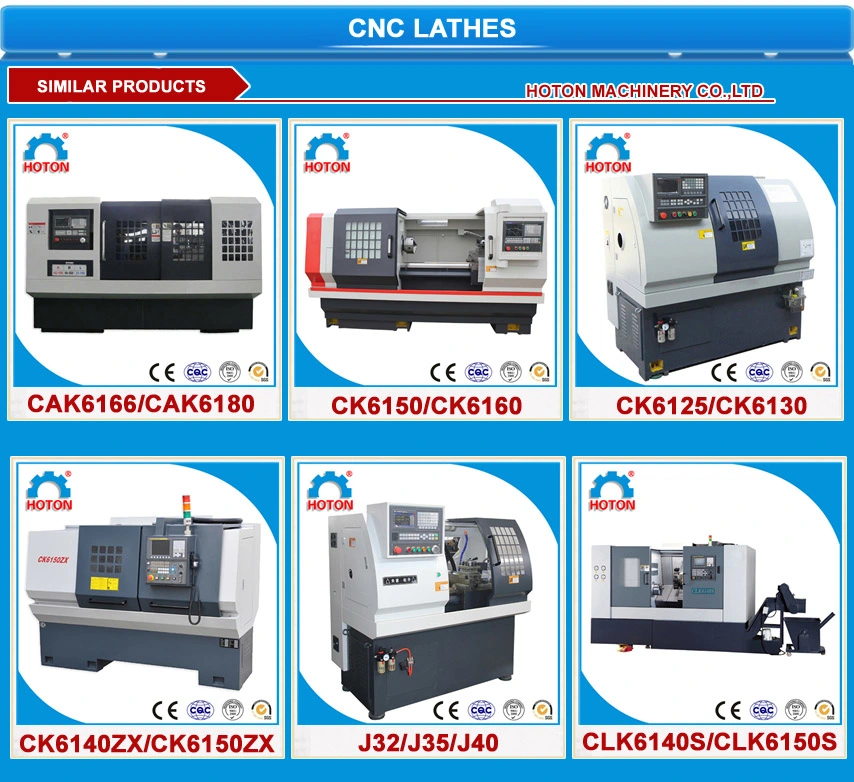 CNC LATHE FEATURES:
STAND AND BED use full casting, good regidity
Bed way 400mm width
Eject splash in middle of bed
3 support in spindle
Box way, linear way for optional
Multi-Numerical control system for optional
SPECIFICATONS:
MODEL
CK6140
Swing over bed
500mm
Swing over cross slide
195mm
Length of work piece
600mm
Distance between center
650mm
Z-travel
900mm
X-travel
240mm
Spindle bore
Taper of spindle bore
Spindle nose
Range of spindle speed
52mm
(MT6#)
D1-6
200-2200r/min
Z rapid speed(Box Way)
Z rapid speed(Linear Way)
8m/min
12m/min
Z cutting feed(Box Way)
Z cutting feed(Linear Way)
1~4000mm/min
1~5000mm/min
X rapid speed(Box Way)
X rapid speed(Linear Way)
3m/min
10m/min
X cutting feed(Box Way)
X cutting feed(Linear Way)
1~2500mm/min
1~3000mm/min
Power of main motor
5.5kw
Max. spindle torque
70Nm
Repositioning accuracy(Box Way)
Repositioning accuracy(Linear Way)
±0.006mm
±0.004mm
Min. input
0.001mm
Nos. of tool position
4
Max tool shrank
20×20mm
Tailstock diameter
60mm
Tailstock taper
(MT4#)
Tailstock travel
160mm
Power supply
11kva
Overall size(L×W×H)
210×120×200cm
Packing size(L×W×H)
220×132×222cm
Net weight/Gross weight
1500kg/1600kg
STANDARD ACCESSORIES
Wrenches
Reduction sleeve
Center
Short -Taper Three-Jaw self-Centring Chucks
STANDARD PART
Frequency conversion spindle motor 5.5kw
Max. spindle torque 70Nm
Power supply 11kVA
2-Axis box way
4 position vertical electric turret
Auto lubrication , coolant system
Simple cover
GSK980TA numerical control system
OPTIONAL ACCESSORIES
Frequency conversion spindle motor 7.5kW
Max. spindle torque 95Nm
Power supply 13.5kVA
16 Step headstock gear graduation 45~1800r / min
X axis box way ,Z axis Hiwin linear guide way
2- Axis Hiwin linear guide Way
6 position horizontal electric turret
Gang tool
Full cover
FANUC Oi-mate-TD , Siemens802C , KND100Ti ,HNC-21TD numerical control system
Power Chuck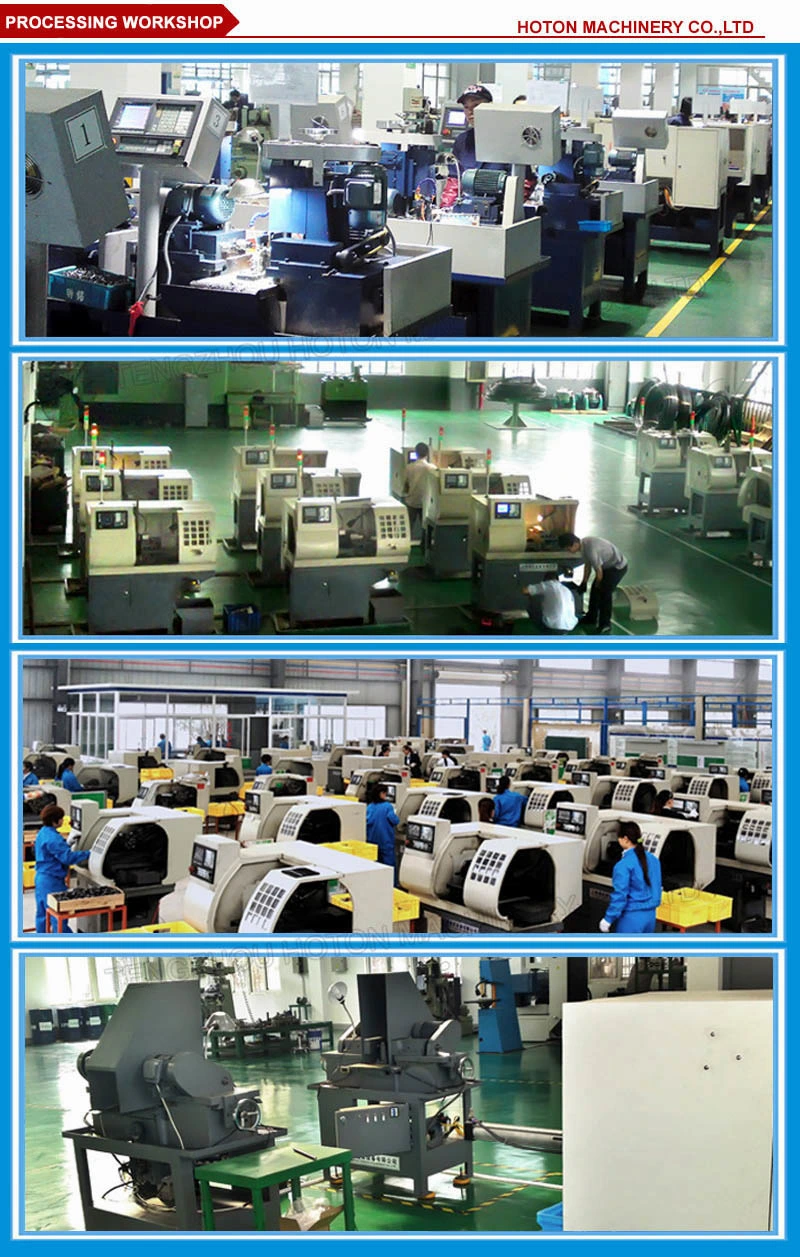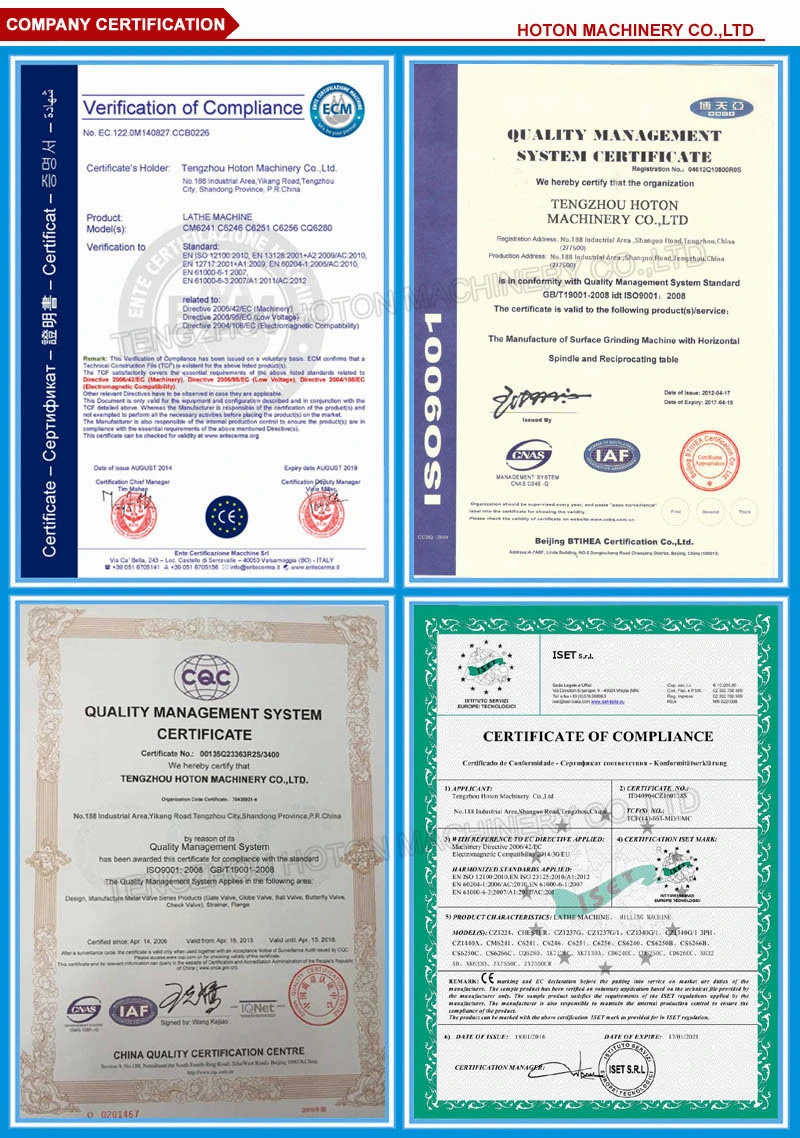 Contact Us:
Andy Wang
TENGZHOU HOTON MACHINERY CO.,LTD
Tel:0086 632 5633796
MP:0086 13506328892
hotonmachinery.en.made-in-china.com
Company Profile
:
Tengzhou Hoton Machinery Co.,LTD was established in 2006, and is the professional machine manufacturer in China. There are 480 workers, of whom 60 are engineers. It has an area of 46,000 square meter, general assets 30,000,000. It has a store of 350 equipments and the good ability of products design & manufacturing. It has export quality permit from 2007, and has export right given by the State Foreign Economic Trade Committee in 2008.
The leading products: "Hoton" series of CNC machines, Lathes, Milling machines, Drilling machines,Grinding machines, Saws, Sheet metal machines, Metal forming machines, and other machine accessories.Some products have national patent.It has fourteen series, over eighty models by itself. It has the ability of making 100,000 sets every year. All the products are designed perfectly and has high quality high performance and low price, and the excellent quality guarantee system. The products have past ISO9001 and CE certification since 2009. The products have been export to five continents, over forty countries and areas. It resulted to the attraction of client abroad and home, the quickly promotion of products sale.
Tengzhou Hoton Machinery Co.,Ltd. is willing to make common progress and developments with all the customers.
Quality first,Constantly perfecting skills.